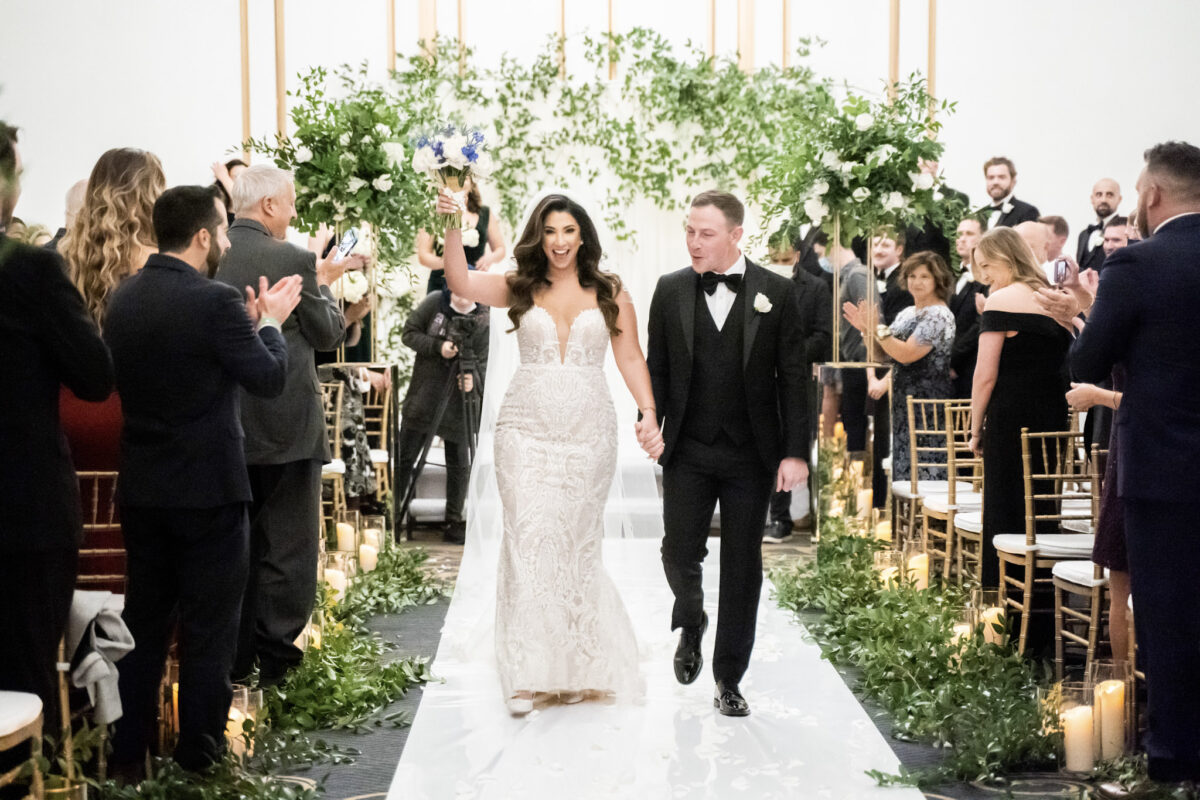 Photo: Scornavacca Photography
When it comes to wedding décor, greenery is having a moment. From verdant garlands and lush centerpieces to foliage-filled arches, greenery can be used in a variety of creative ways to bring your special day to life. If you're looking for some inspiration on how to use greenery as part of your wedding, then this blog post is for you! We'll explore the different types of greens that work best, where they can be placed, and our tips to make sure it all looks great!
Greenery Wedding Bouquets
The bridal bouquet has become an icon of weddings, and adding greenery can create beautiful, lush bouquets that will leave guests in awe. Greenery adds texture and depth to bouquets while still maintaining focus on the flowers (and the person carrying them)! From delicate eucalyptus leaves to larger tropical foliage such as monstera or philodendron, there is something for every style of bouquet. Adding greens also helps bring out the colors of your other blooms and creates a cohesive look throughout your décor.
Photos: Zev Fisher Photography, Lindsey Mae Photography, Molly Quill Photography
Greenery Wedding Ceremony Décor
Greenery can also be used to add a touch of nature to the wedding ceremony. Of course, everyone immediately thinks of greens attached to the sides of seating that touches the aisle. But there are many other opportunities to incorporate greens at your wedding ceremony! Create a dramatic welcome moment as your guests arrive by adorning the entryway with greenery lining the walkway to the ceremony space or a dramatic greenery arch for guests to walk under. Greenery can also add some drama: lush greenery lining either side of the aisle, or for a unique take, create an aisle canopy by suspending greenery above the aisle: suspending some lighting elements like our glass orbs and candles adds a modern touch to the design.
During cocktail hour, greenery can be used to create a cozy atmosphere that will make guests feel at home while they enjoy drinks and hors d'oeuvres. Greenery accents such as fireplace mantles, centerpieces, hanging foliage, and even napkin adornments can bring the outdoors inside without taking away from the elegant vibe of the event. If you want to take it up a notch, consider greenery walls for added emphasis.
Photos: Danny Gorman Photography, Lena Mirisola Photography, Zev Fisher Photography
Greenery Wedding Reception Décor
The options are endless when it comes to incorporating greenery in your wedding reception – for tented receptions, consider wrapping the tent poles in lush, green garlands. We can also treat the pole as a tree and add foliage to give it a more natural appearance.
If your reception space has high ceilings with chandeliers, dressing them with greens allows us to bring the outside in and creates a cohesive design throughout the space. Or, consider adding greenery to draping if you're looking for a rustic yet refined aesthetic.
Photo: CityLux Studios
Photos: Flavio D Photography, Shane Godfrey Photography, Amy Spirito Photography
Greenery is a great way to bring natural beauty and life to your wedding reception. From garlands to centerpieces, tent poles to arches, there are countless ways to use greenery as part of your space day décor. Greenery can be used for everything from ceremony décor like an aisle canopy or suspended lighting elements, to creating a cozy atmosphere during cocktail hour by adding greens to the fireplace mantle in a historic venue. For a bolder, more dramatic statement, greenery walls will make the room come alive with beautiful textures and colors. Whether you're looking for something classic or modern, adding greens can create stunning arrangements that will leave guests in awe!