If you know anything about team Flou(-e)r, it'll come as no surprise that we love dogs. In fact, when you visit us at the studio, there's always a chance you'll meet Cooper (our CFO – Chief Fetch Officer) or Tucker, the Barketing Intern. There's no surer way to put a smile on our face at an install than seeing a pup celebrating with their parents! That's why dogs at weddings is a trend we hope never goes away. If you think you may want to incorporate your fur baby into the big day, we have some ideas and insight to share with you! Keep reading for our top tips on incorporating your dog into your wedding.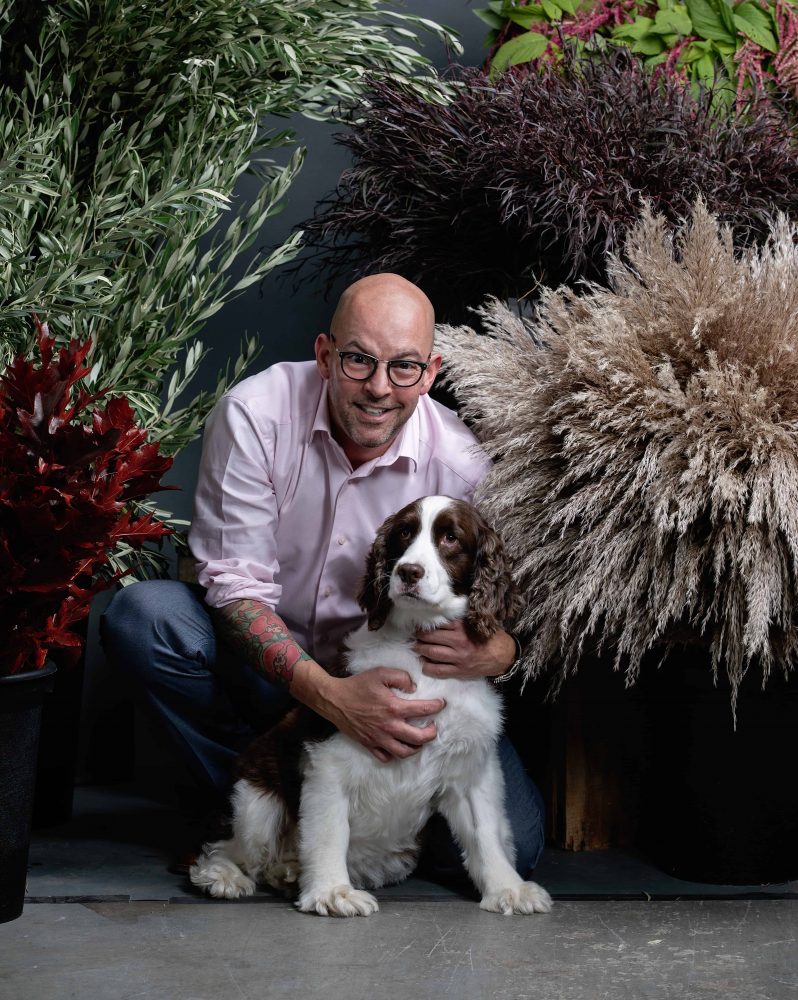 Your pup will need a wedding day timeline, too!
It may sound a little high maintenance, but the last thing you want is to have a grouchy, tired pup just moments before their big reveal. Before the big day, consider a doggie spa day for grooming so they'll be ready for their closeup in all the wedding photos. 
On the big day, you'll be preoccupied with your own timeline – so make sure you designate someone that your pup will be comfortable with to manage their pre-wedding events. We recommend plenty of rest, a pre-wedding snack, a nap, and of course, a walk to take care of business before walking down the aisle! Dogs really do have the life, don't they?!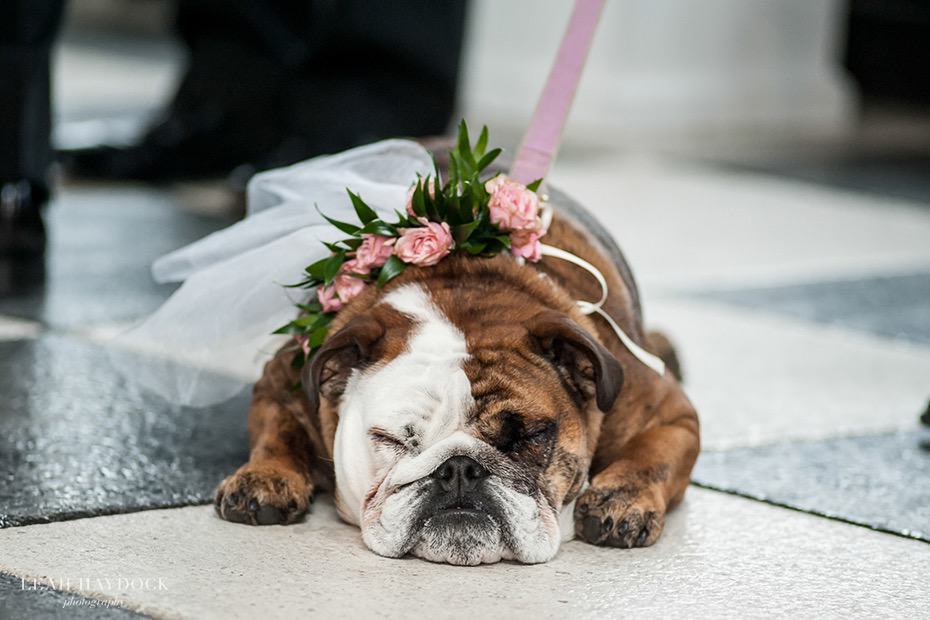 Make sure they have something to wear.
We're of the opinion that dogs should look just as dapper as the rest of the wedding party, so consider a doggie tuxedo (with a boutonniere, of course!) or a pretty tutu with a floral collar. For a leash, consider a beautiful satin ribbon for a classic look, or a greenery leash for a more rustic feel.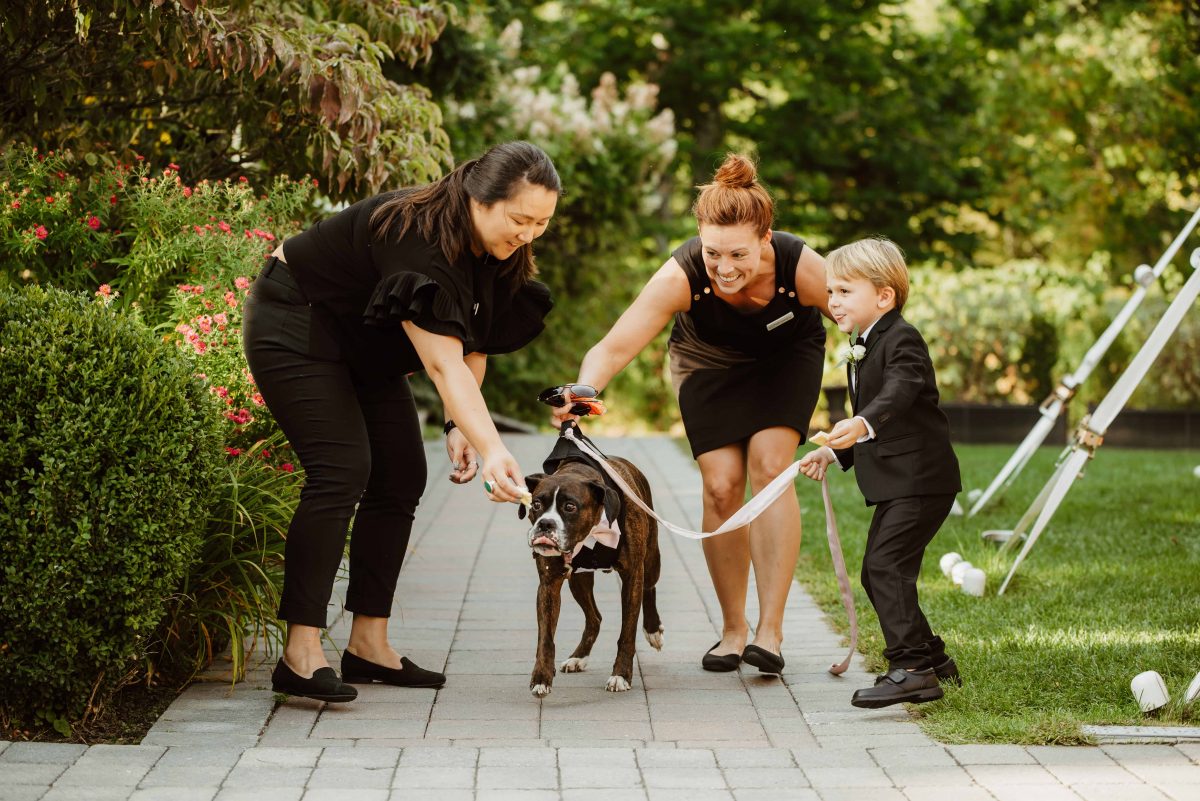 Consider their role in the day.
Some couples will want to make their dog part of the wedding party, and others will choose to have the dog around for photos. For example, an honor dog could walk down the aisle and sit alongside someone in the wedding party during the ceremony. A flower dog might carry a basket of flowers (we'll make sure the flowers are non-toxic and completely safe for your doggo!), while a ring bearer may have rings tied around their collar. But if your pup isn't a fan of being the center of attention or might get overwhelmed with so many new people and smells, it may be best to let them be an honored guest and make an appearance for photos only. Which brings us to our next point: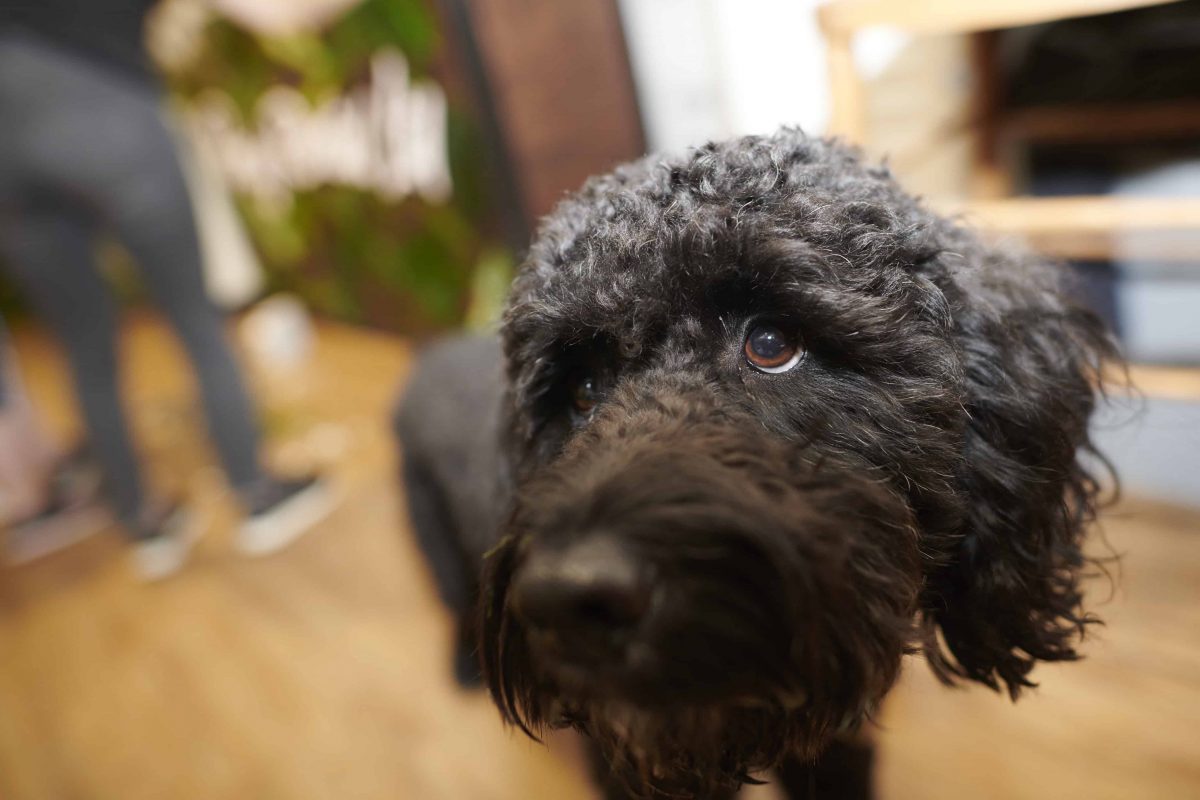 Consider your dog's level of comfort.
Of course, your dog is part of your family, so it's understandable that you want them included in your wedding. But is it the best decision? Start by honestly considering your dog's personality: will they be comfortable meeting so many new people, in a new environment, with loud music? We also recommend that your dog know and take the sit, stay, and down commands from whoever is handling them – your dog will be so excited to see you on your big day, but you may not want a dog jumping on a designer dress! If you think your dog will be a good fit at the wedding, be sure to practice – a dress rehearsal, a mock trip down the aisle, and extra time at the venue to explore before guests arrive are all great ideas.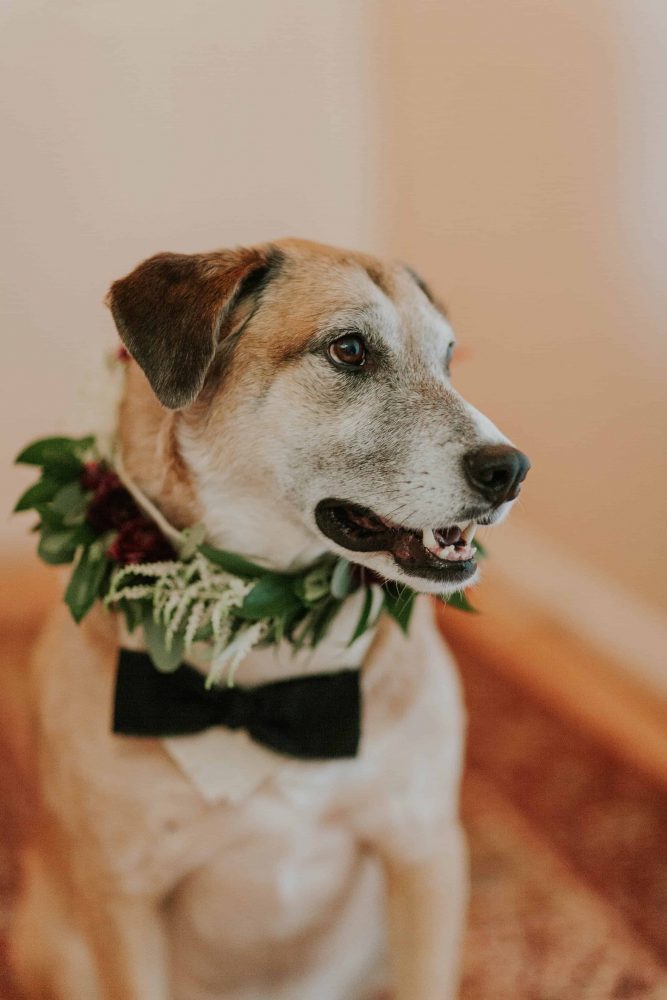 What to do if your venue doesn't allow dogs
Some venues may not be so welcoming to our furry friends, for a variety of reasons. If your venue doesn't allow dogs on property, know that there are still ways to include them in your big day. Consider incorporating your pet into your engagement photos, which you can use as save the dates. Or name your signature cocktails after your furry friend.
If you are thinking about including your dog in your wedding, please be sure to let us know so we can start dreaming up some beautiful florals for your furry family member. We'd love to have even more Flou(-e)r dogs in our portfolio!