You will walk down the aisle, vow your love to your partner, and seal it with a kiss. What could be better than that? Well, having a beautiful bouquet to accompany you will certainly enhance your special day! After all, a bouquet is said to be one of the bride's most important accessory.
More Reading: Elements of Winter to Incorporate Into Your Wedding Floral Arrangements
Planning the bridal bouquet is one of the most important parts of our design process. From lush, organic bouquets to dreamy, round bouquets, we want to make sure your blooms are stunning for your nuptials. Heck your bouquet will be in more pictures than any other florals on your wedding day.
We believe that every bride deserves to flaunt a gorgeous bouquet down the aisle! And so today, we have gathered some tips and inspiration for the bridal flowers.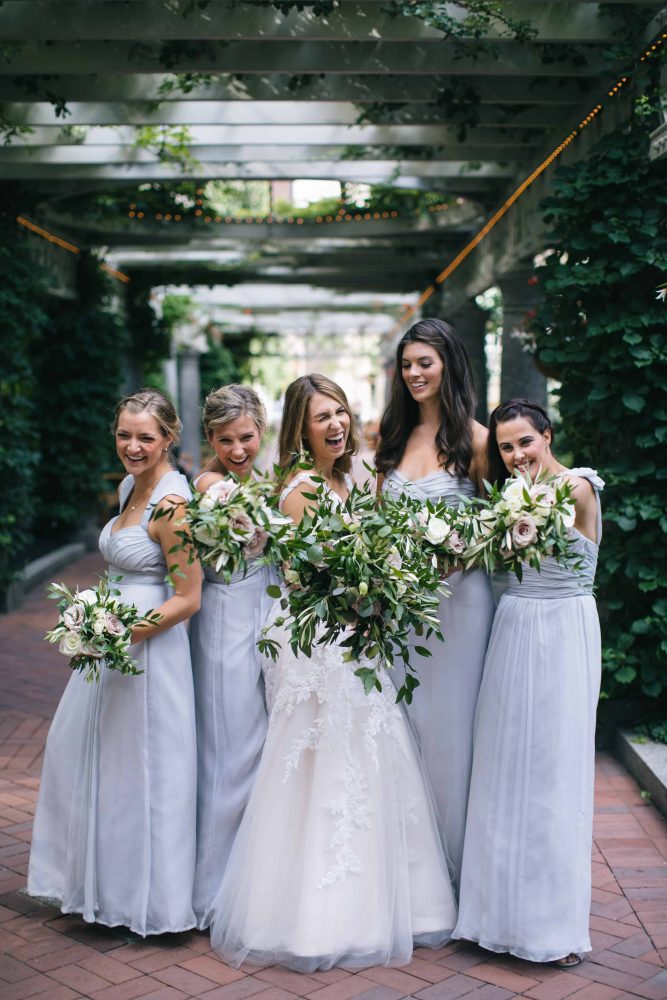 Discover Inspiration
Your wedding day is filled with many details that can provide great inspiration for your bouquet. Here are some of our favorite sources of inspiration:
The Venue. A great place to start when thinking about your wedding flowers is envisioning your venue – what are the natural elements of your wedding venue and can they be incorporated into your bouquet? Perhaps you're getting married in the mountains, where succulents would be a great addition. Or perhaps it's a Cape Cod wedding, where we might suggest hydrangeas since they grow locally and remind so many of the coastline.
Pinterest. Pinterest is a great place to start collecting inspiration but be careful: the options are endless and if you spend too much time on Pinterest your bound to come down with a case of decision fatigue. Our advice: cast a wide net on Pinterest, save the things that really catch your attention and then take a look at what you've saved and see what the commonalities are. Sometimes it will be a color palette, other times it will be a specific type of flower.
Pop Culture. It may sound crazy, but it's true – you can find bridal bouquet inspiration from entertainment: whether it's from a wedding on your favorite tv show or movie, or it's a bridal bouquet from a celebrity wedding – there's no limit to where you can get your wedding flower inspiration!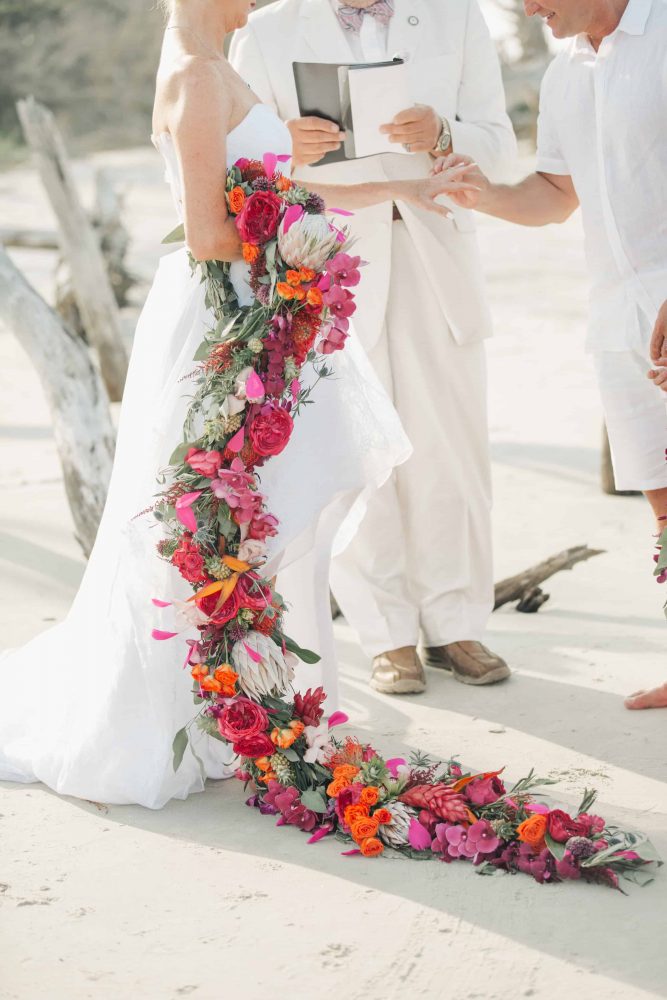 Choose a shape
When you begin choosing the best shape for your bouquet, you will be met with an array of options. Cascading, crescent, round… even a boa! The shape you choose will play greatly into the style of your bouquet.
A round bouquet is a great option for couples opting to have a more understated wedding and are sticking to tradition. Round bridal bouquets are classic and timeless. 
 Looser, open bouquets are generally larger in size, and the perfect accessory for the bride looking for something more natural and organic in shape. They offer just the right amount of uniqueness to an otherwise classic design.
Crescent bouquets are romantic and offer just the right amount of uniqueness to an otherwise classic design.
Floral boas are perfect for brides who want to do something completely out of the box and unique. It's unlikely your guests will forget your bridal bouquet if you opt for a floral boa!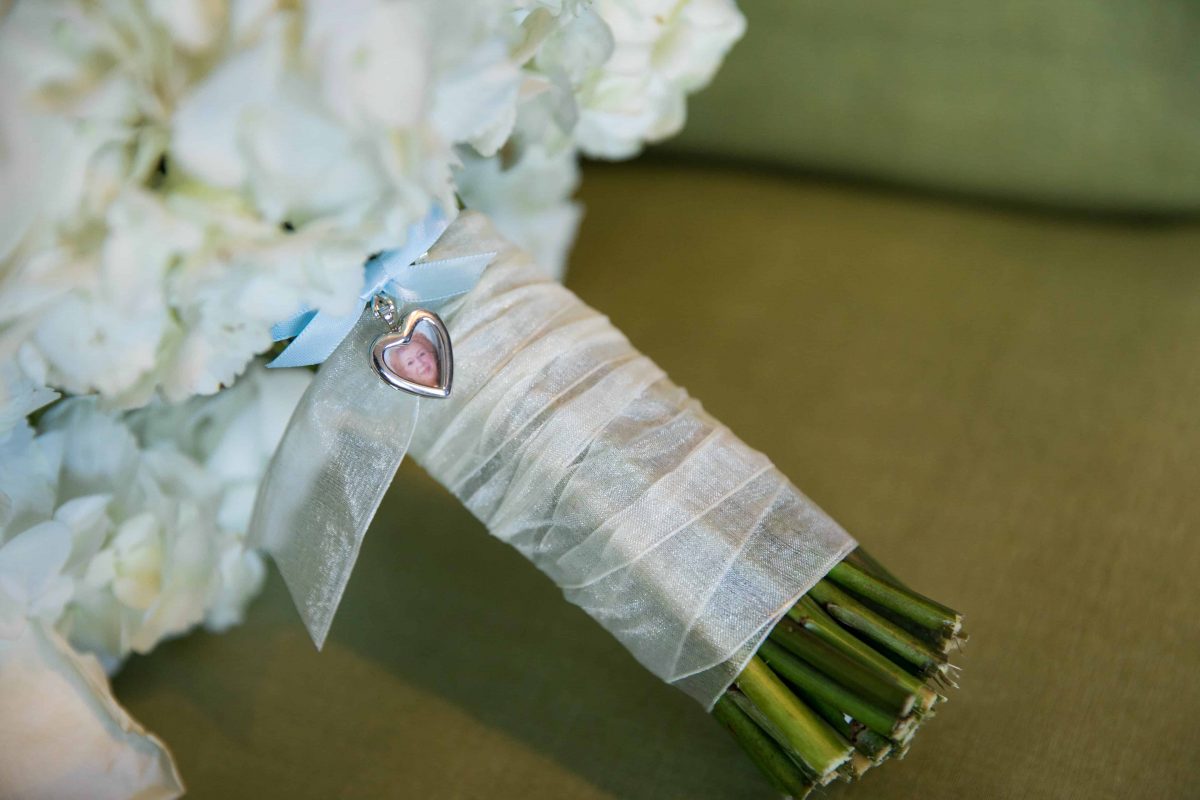 don't forget the details
The details matter! Your bridal bouquet is not just about the blooms, there's so much more that can go into it! 
Consider how your bouquet will be wrapped – do you want to have stems showing, or not? What color ribbon would you prefer, and do you want the ribbon to extend from the stems, creating an airier, ethereal look? Or perhaps you'd prefer to use the excess fabric from your dress to wrap the bouquet? 
Perhaps you'd like to honor someone special by including a family heirloom or charm with their photo to keep them close on your wedding day. These touches are small but meaningful ways to make your wedding bouquet personal.
Your bridal bouquet is a big accompaniment to your ensemble. Therefore, the design should be well thought out! These are just a few tips to assist you with creating yours.
More Reading: The Most Popular Wedding Flowers to Incorporate Into Your Big Day
Are you feeling inspired to create the blooms for your own big day with a wedding floral designer? If so, please contact us today here at Flou(-e)r Specialty Floral Events – we can't wait to find inspiration with you!