It may be August, but if you're one of the couples who have suddenly found themselves planning a winter wedding due to a COVID postponement, you may be looking for some wedding flower inspiration.
Aesthetically, the winter season is all about unique greenery, dazzling snow, crisp air and pine scents. It's also the time of year we find ways to stay warm: hot cocoa, fireplaces and relaxation, but also by surrounding ourselves with friends and loved ones. It's no wonder the winter season is the perfect time of year to tie the knot.
More Reading: Top Bridal Bouquet Styles for Your Wedding
If you can't tell, we love the winter season and can't wait to highlight its comforting appeal throughout your wedding floral arrangements! We believe that every wedding should showcase unique floral arrangements!
Pinecones
The scent of pine undoubtedly makes everyone who smells it think of the winter months. However, pine trees have more to offer than their aromatic elements, as they also give us pinecones, which are quite useful for décor! The pinecone is a versatile piece of the pine tree that makes a great addition to any winter floral arrangement. Whether they are left plain, painted, dipped in glitter, or even used to add a sense of smell to your setting, pinecones are sure to add a dash of winter to any floral arrangement that they are placed within. They are versatile too: pinecones can be utilized in rustic and modern designs alike, depending on how they are incorporated into the design.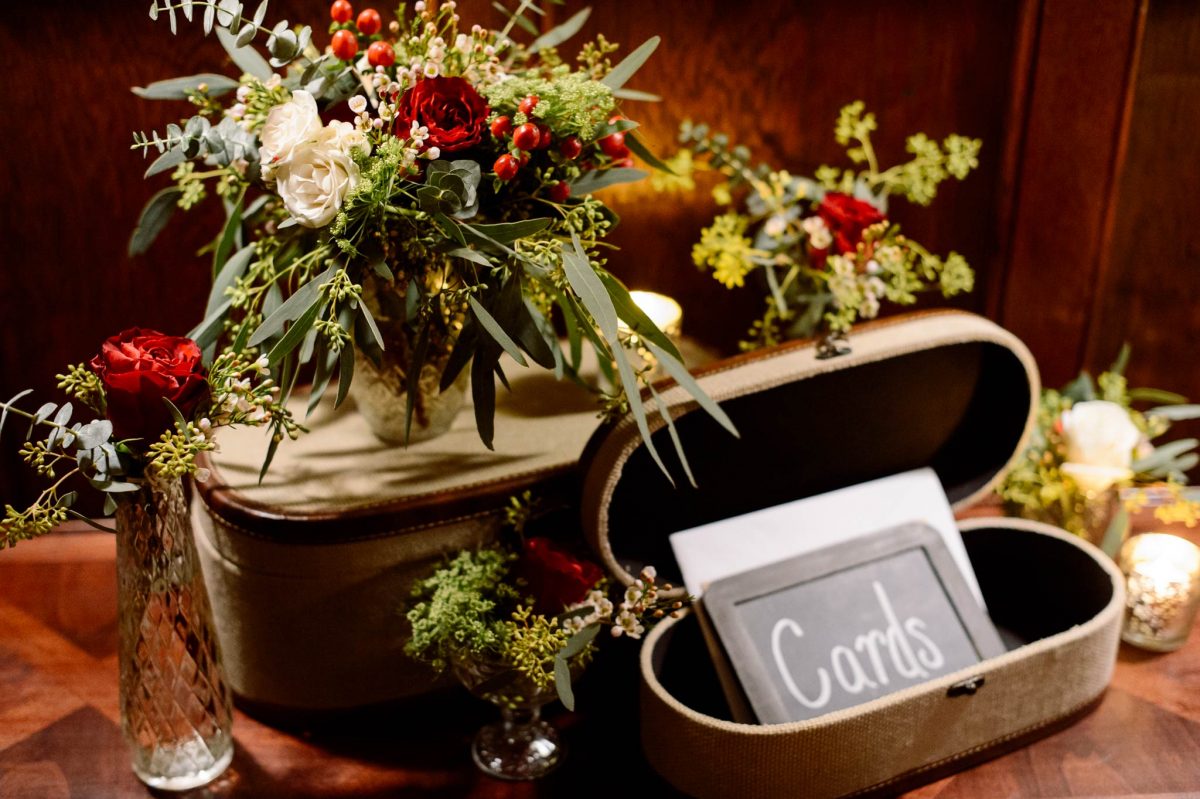 Winterberries/Ilex.
One of the most popular floral foliage used for winter is the ever so charming winterberry, also known as ilex. Long-stemmed branches holding bright red berries is the perfect way for you to add a diverse appeal and height to your seasonal floral arrangements! They truly capture the winter spirit, in both color and style.
Ribbon
Not just for pretty packages, ribbon can play a role in your overall wedding design plan. You can catch the festive spirit with many different types of ribbons, from material to color and size – trust us, you will not feel like there aren't options when it comes to ribbon! You can utilize ribbon in an array of ways when it comes to your wedding floral arrangements. Use long, dripping velvet ribbons on your bridal and bridesmaid bouquets for a more ethereal look. For a playful yet modern look at the ceremony, consider tying pretty bows with floral or evergreen accents on the corner of the chairs touching the aisle. You can also use ribbon to hand tie place cards to menus for each place setting – a nice touch!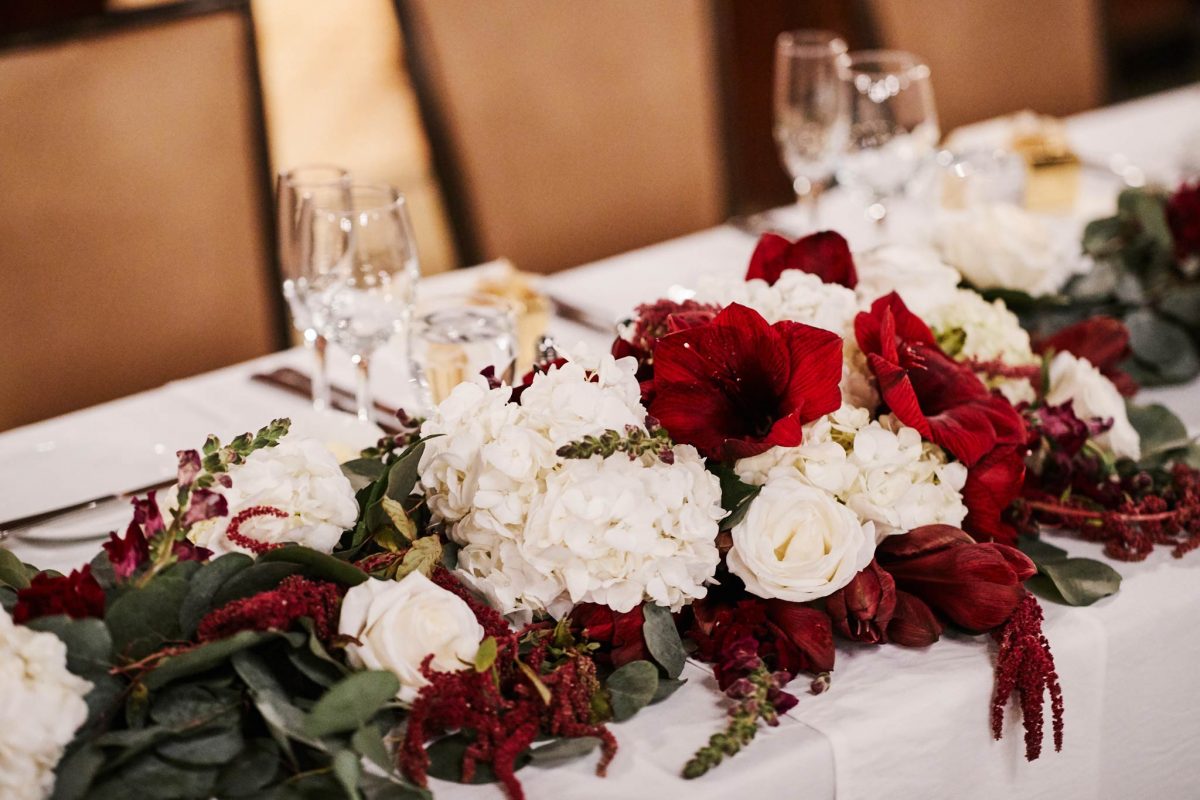 Flowers.
You may be thinking, "where are the flowers" – while you now have a list of unique seasonal elements that you can incorporate into your floral arrangements, let us reassure you that there are great winter blooms that would pose as the perfect bases! If classic is more your style, stick to blooms in white, ivory and cream, or even super pale blush and champagne. Consider calla lilies, orchids and anemones. If your wedding date is closer to the spring season, tulips are another great option! If festive is more your style, let's bring in some decadent reds and burgundy's: roses, amaranthus, amaryllis and ranunculus are all wonderful options. And, if you want to go a little nontraditional with your greens, allow us to infuse some succulents into your arrangements and bouquets for a really cool, nontraditional touch.
You can bring the celebration of winter to your wedding with impressive and seasonal floral arrangements! These are just a few of the many popular ways in which you can.
More Reading: Popular Beach Wedding Flowers
If you are feeling overwhelmed about your wedding flowers, please contact us here at Flou(-e)r Specialty Floral Events! We believe that every wedding should showcase gorgeous flowers, and would be honored with the opportunity to ensure that your wedding does!!!